Our Adult Tour Services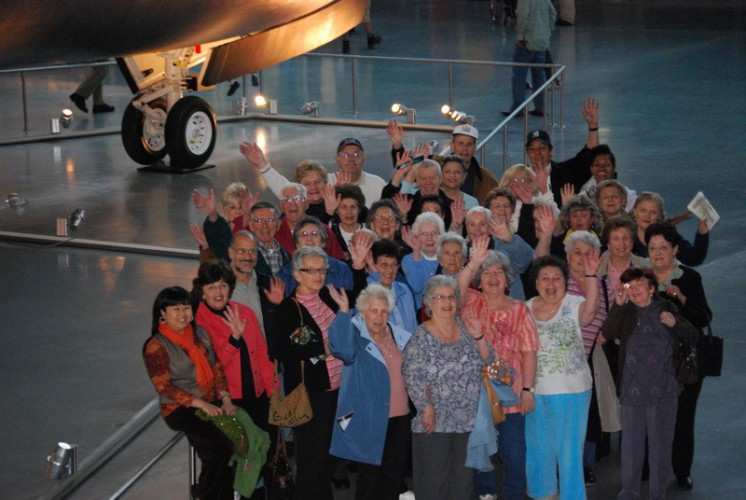 Request a Quote
The Product
One If By Land Tours, Inc. continues to lead the industry in value and quality of the experience. Each year we make dozens of changes and introduce new product. We still visit and evaluate all the components of our packages to assure that they meet our standards. Every tour is customized to meet the needs of our travelers. We no longer publish an adult brochure. However, our Travel Club publishes a quarterly newsletter which can be downloaded or mailed directly. If you do not see something in the current newsletter, take a look at some of the archived newsletters and you may fins something very appealing. Since we customize our tours to meet the needs of our clients, no tour is beyond our ability to plan.
The Package Price
One If By Land Tours, Inc. uses its buying power to reduce the cost of the tour. There are no hidden add-ons or surcharges. Prices are based on the maximum number of tour participants and are adjusted to reflect actual registration. Complimentary tours are based on an industry-leading one per ten ratio for students, and a one per twenty five ratio for adult tours.
Package prices are inclusive of transportation, lodging, attractions and food. One If By Land Tours, Inc. uses only well known brand name hotels. We examine our hotels yearly to be certain that they meet standards of safety, cleanliness and convenience. While our tours generally overnight in a suburban location, we guarantee that you will be close to all major attractions. Adult tours are accommodated in double occupancy. Students are accommodated in quad occupancy and teachers/chaperones are in double occupancy.
Theme restaurants, smorgasboards and buffets are used in our student meal program. Our adult tours generally dine at more upscale restaurants unless otherwise requested. Fast food restaurants are never used unless requested by the group leader. Deluxe continental breakfast, or full breakfast buffets are offered depending on the location of the tour, and the budget of the group.
The Transportation
One If By Land Tours utilizes only the services of transportation companies with outstanding safety and service records. The coaches we utilize have amenities such as lavatories, CD, VCR, and DVD players. Seating capacity ranges from 22-61 passengers.
The Staff
One If By Land Tours, Inc. is proud of the professionalism of its office staff. Each tour is assigned a trained account manager to handle all aspects of planning and execution of the tour.
We employee the most experienced tour directors in the industry. Many of the tour directors have graduated from our unique, comprehensive training program that includes onsite visitation, followed by written and oral evaluations.
Just wanted to follow up with you after the wine trip to tell you what a great day we had. The bus was beautiful and a few long-term trippers noted that it was one of the nicest buses we ever had. Thanks for making our day great. Looking forward to using your company again…
Cristina O'Keeffe
On behalf of the JCC group and myself I want to thank you fro a fabulous and informative trip. The sights, hotel accommodations, food, and entertainment was excellent. The American Treasure Tour was unbelievable. Everyone enjoyed themselves immensely. They all send you their regards and missed not seeing you on the trip.
Susan Polin
It was an exciting and wonderful trip! The Broadway Showcase performances were outstanding, dining on the historical tall ships, the Moshulu was elegant. You are a caring thoughtful person knowledgeable and with a good sense of humor.
Adele Werthmuller
Tips and Tricks for Perfect Trips
With so many attractions and events, vying for your group's attention, it's easy to get overwhelmed. Creating a trip or outing for a group doesn't have to be difficult… Fortunately, there are some basic guidelines to help you get started. If you're a new Group Leader, an easy way to get your group traveling is to find a Tour Operator who specializes in putting together trips for groups.
That's Where We Come In
One If By Land Tours is a professional Tour Operator, offering a plethora of attractions, events, and sights of interest to choose from. Once you contact us and explain what type of outing you are interested in we take care of everything! We can also send you a newsletter/brochure with a list of all the trips we are offering individuals or preformed groups. If you still need some help with places to visit, we will be happy to make some suggestions as well.
Once you've decided on a destination, we will create an itinerary for you, arrange for transportation, make restaurant reservations, reserve your seats at events, and can even provide you with a tour director who will escort your group to each attraction on your itinerary. You'll only have to cut one check, and you won't have to deal with any problems that might pop up. We can also assist you creating flyers, and getting you information on all the places you'll visit on your trip!
There are certain "Key" things you should know about every trip you book with a tour operator to make sure that your trip goes off with out a hitch.
First, get EVERYTHING in writing! With all the details to be attended to it's easy to misinterpret some important information. By having the details in writing you'll never have to explain to your group why something was not included or why there is an extra charge that no one was expecting! Here are some of the important points to clarify with the Tour Operator, whether it is us or someone else.
Policies and Procedures
What is the deposit policy or how much money you have to put down to reserve your trip?
Is the deposit refundable and if so what is the last date that you can get you deposit back?
When is the balance due?
What is the cancellation policy?
What about weather? (Snow or other acts of God) and is there a policy in place to address these concerns?
Do they have a comp (complimentary) policy where the Group Leader goes free?
IMPORTANT: How flexible are these policies?
Some costs, such as pre-made meals can't be refunded but there is almost always something that can be done to help out someone who is going through a crisis in their life. Yes, business is business. However, working with people who have a kind and understanding heart will go a long way towards making your trip a success!
Our travel club trips have the cancellation and refund policy printed in every newsletter, but if there are extreme conditions we will do our best to do what we can. There have been times when we have refunded the entire cost of a couple's trip on the day of outing because of misfortune, however; we've also had people ask for a refund because it was a rainy day and they just didn't feel like getting a little wet! Fair is fair and a rainy day just doesn't warrant a refund.
One If By Land Tours
TOLL FREE: 800-592-5566
LOCAL: 704-844-2415
FAX: 704-844-2423
MAILING ADDRESS:
PO Box 78798
Charlotte, NC 28271